Stream One Touch Lipstick A
Long Lasting Type: 3.9 g, .13 Oz.
Sheer Type: 3.4 g, .11 Oz.
Gloss Type: 3.4 g, .11 Oz.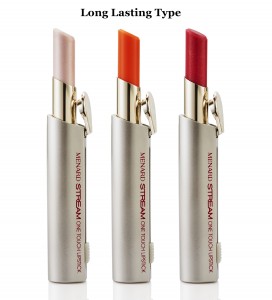 Moisturizing lip colors in MENARD's original patented and unique container. Fast and easy application and touch-ups with one hand. Full luscious colors with a spectacular finish.
Directions for use
Bring out 0.5 cm of the lipstick and apply it to the lips. When using a lip brush, load plenty of lipstick on the brush and apply over the lips.