About Us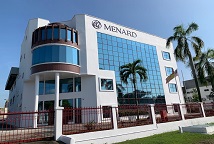 Menard products were introduced into Malaysian Market in early 1970. After having established a steady growth momentum path for Menard Market in Malaysia, Nippon Menard Cosmetic Co. Ltd, Japan decided to establish its first overseas factory in Malaysia.
Nippon Menard (M) Sdn. Bhd. was incorporated in Malaysia on 12th of September 1988 and started operation in March 1989. Nippon Menard (M) Sdn. Bhd. is wholly owned subsidiary of Nippon Menard Cosmetic Co. Ltd, Japan. Nippon Menard (M) Sdn. Bhd. proposes skin care and make up products which are distributed in Malaysia, Singapore, Vietnam, Thailand, Cambodia, Hong Kong, Taiwan, Canada and US Markets.
Initially, Nippon Menard (M) Sdn. Bhd. was engaged in manufacturing and distribution operation. Subsequently, in the year 2009, Nippon Menard (M) Sdn. Bhd. is also entrusted with additional role function of distributing Menard products to the dealers in Malaysian Market.
The aftermath of the participation in various exhibitions and road shows in Malaysian Market, has earned high reputation for Menard Brand which is the sign towards the growth of the market.
Nippon Menard (M) Sdn. Bhd. factory is designed in accordance to the standard of Japan factory to produce quality products. The factory is also accredited with ISO 9001:2015 for Quality Management System.
The operation of the factory is constantly monitored by Inazawa Factory, Japan management team in order to ensure that the quality control standard is continuously observed. Therefore, a manager of Inazawa factory has been seconded to Nippon Menard (M) Sdn. Bhd. to oversee the factory operation.
Vision
Nippon Menard (Malaysia) Sdn. Bhd. has a fundamental responsibility and commitment in meeting the customer's requirements and giving the customers excellent product satisfaction.
To comply to the regulations and guideline stipulated in the Sales of Drugs Act 1952, control of drugs and cosmetics.
To continually improve the quality management system ISO9001:2000 effectively
Nippon Menard (M) Sdn. Bhd. has a fundamental responsibility and commitment to ensure that all employees work in a safe and healthy environment. We will comply with all provisions of the Occupational Safety and Health ACT No.514, Regulations and approval codes of practices. We will take every measures to prevent occupational injuries and illness.
Nippon Menard (M) Sdn. Bhd.'s Factory Operation Objectives:
To ensure all Fire Extinguishers are at proper static places and are in working condition.
To periodically check the First Aid Box whether properly equipped.
To ensure all Exit and Fire Doors are kept open during operational hours.
To ensure all highly inflammable chemicals are labeled and stored at properly ventilated area.
In performing their job, the employees of Nippon Menard (M) Sdn. Bhd. at all time will strive:
To prevent all occupational illness by using Personal Protective Equipment (e.g: Mask, Gloves) when handling chemicals.
To perform daily housekeeping of the entire factory area to ascertain cleanliness.
To prevent all accidents and injuries by following strictly to the working instruction procedures.
To prevent pollution of the environment by draining out Manufacturing discharge properly.
Each employee is an important part of our Safety and Health program and we expect them to be committed to these objective and report all hazards and situation near misses which may lead to accidents and illness. The implementation of sound safety and health practices for the protection of our people is an essential element in the overall success of our business.