Herb Mask N
120 g / 4.2 Oz.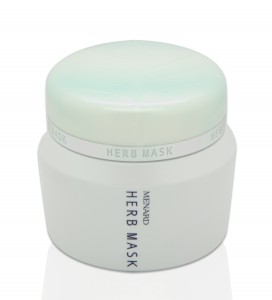 1 minute skin reset for smooth and bright skin. Contains 3 granules obtained from variety of herbs. It is an instant creamy facial mask for ultimate clarifying care. The unique Spherical Jojoba Oil Grain exfoliates dead skin cells for a clear, bright and silky smooth skin, allowing ingredients to penetrate better into the skin. Relaxing scents clears away the dullness of your mind and skin.
Green Herb Granules
Includes Strawberry Geranium, Raspberry, Jujube Fruit. Work on old skin cells to boost the effects of Spherical Jojoba. Oil Grain that gently removes them for a translucent complexion.
Pink Herb
Granules moisturising ingredients are Wild Thyme, Rosa Multiflora Fruit (Japanese Rose), Chamomile, Coix.
Other Herbs
A  Jojoba (Spherical Jojoba Oil Grain)
Arnica
Directions for use
After washing and massaging, apply to dry face avoiding hairline, eyes and lips. Gently massage the areas where old skin cells tend to accumulate (forehead, nose and chin) in a circular motion for 30 seconds. Rinse away with (lukewarm) water.