Authent Cream II
50g, 1.7 Oz.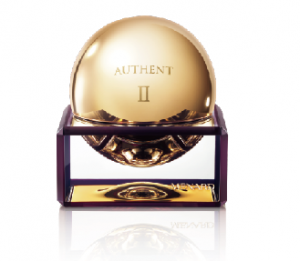 A multi-function cream with a composite effect on skin that develops various problems with age. The moment you apply AUTHENT CREAM II to your skin, you can experience a sensational feel. The cream gently spreads over every part of your skin and leads to clear supple skin. Your skin is covered with a fine-textured veil of the cream, just like new skin. As time passes, your skin approaches a bright future. AUTHENT CREAM II provides the skin around the eyes and mouth with a velvet smoothness. A moist, supple and fine-textured skin ensuring a beautiful makeup finish is now yours.
The feel of comfort changes on the skin moment by moment, something you will have never experienced, as this rich cream smoothly spreads over the skin. It is absorbed into the skin surface like it is melting, and you can feel as if the cream is becoming one with the skin.
The fragrance of AUTHENT CREAM II is produced from quality natural essential oil of roses, orange flowers, and violets blended with ambrette seed oil*, and full of femininity.
Ambrette seed oil: Natural essential oil extracted from the seeds of a plant called Abelmoschus moschatus, a kind of hibiscus.
Directions for use
After conditioning your skin with a lotion and emulsion in the morning and at night, take an appropriate amount of cream on the attached stick, and apply it uniformly over your face.
When you use AUTHENT CREAM II before makeup, apply a slightly smaller amount of cream over your face.
The Power of Plant seeds.
Plant seeds are the answer for efforts looking for the most powerful essence to optimize a stem cell's capability. The mysterious potential of plant seeds – once they germinate, a tiny brown grain can grow into a 30m-high tree, or can bear bunches of luscious flowers and fruit; it is nature's miraculous secret. After testing numerous plants' seeds, we chose the seeds of three species which are the most effective among the ones we tested at generating the potential of stem cells.
Power Of A Sweet Cherry Seed
In vitro test. Pictures indicate stem cells and those with the sweet cherry seed extract.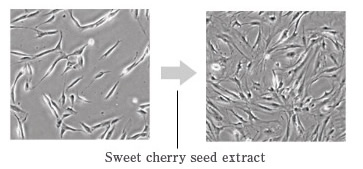 Stem Cells – Origins of the Body
What is a "stem cell"? Our body is made of various tissues such as muscles, bones, internal organs, and also don't forget, skin.
These tissues are made up of what? Cells.
Then, where do the cells come from? That's right, from the stem cells!
A stem cell can be called the "mother of all living cells", and in recent years, the stem cells' latent potential such as their regenerative effect on damaged tissue due to injury or aging, has being revealed.
Now, stem cells are drawing the attention of researchers world-wide in regenerative medicine fields.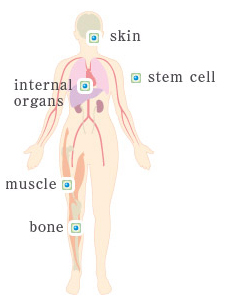 Stem Cells in Your Skin
Stem cells are also in our skin. Recent research has found that stem cells are present in both the human dermis and epidermis.
Stem cells are able to generate new dermal and epidermal cells, and newly produced cells vigorously synthesize collagen and moisturising components in your skin.
Stem cells are the source of young, beautiful and healthy skin.

Stem Cells Decrease with Age
Researchers also have found that the number of the stem cells decreases with age. As the number of stem cells decreases, the natural skin rejuvenation slows, and signs of the skin aging appear: such as dryness, wrinkles, sagging…
Thus, both the stem cells and skin aging are closely related to each other!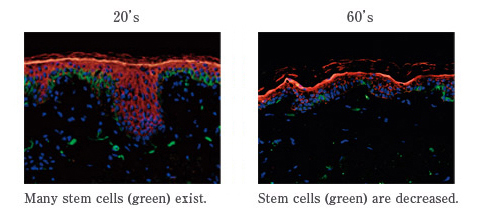 It Works: Laboratory-Proven Effects
Various test results support the effect of AUTHENT Cream. Now it's your turn to try and appreciate this luxurious skin care masterpiece, AUTHENT CREAM.
After repeated use for a few months, the skin becomes smoother and more plump*; and fine lines become less visible.**
Notes: 
* one example of AUTHENT CREAM's effect after usage test (n= 12, before and after 2 months)
** one example of AUTHENT CREAM's effect after usage test (n= 11, before and after 2 months)
Collagen amount change inside the skin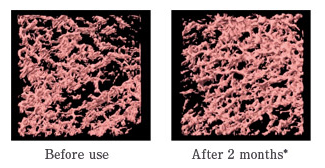 Improvement in cheek area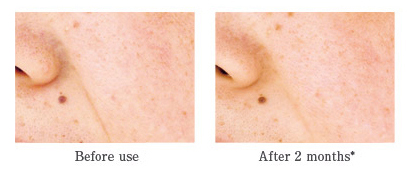 Users of the AUTHENT Cream report the following effects after repeated use for several months.
Lab Result 1: I feel my wrinkles have improved and are less visible.
Lab Result 2: I feel my skin has become more supple.
After 2 months usage
100%
Lab Result 3: I feel my skin texture has become finer and more radiant.
Notes:
For all the 3 Lab Test Result above, the 1 month usage tested with 43 female participants.
For all the 3 Lab Test Result above, the 2 months usage tested with 32 female participants.