Beauness Spa Mask Sheet
5 sheets x (18 ml, .6FL Oz.)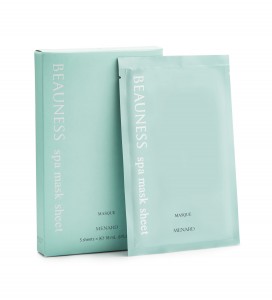 Beauness Spa Mask Sheet was found to deliver an incredible double the amount of moisturizing effect compared to an application of the "lotion mask sheet" soaked with lotion containing SPA Essence.
Soaked generously with thick lotion, the pliant mask sheet clings tightly to the skin.
The mask sheet stays on for about 10 to 15 minutes while  keeping moisture in. Holds the lotion against the skin to hydrate the horny later.
Makes the skin less prone to roughness and pimples.
Directions for use
Use at night time skincare routine after double cleansing or massage.
Take a mask sheet from the pouch and spread lengthwise. Next, spread open to the sides.
Holding the upper part of the mask sheet, adjust to fit around the eyes, nose and mouth and then closely adhere to the entire face.
Gently peel the mask off after 10 to 15 minutes and blend the remaining lotion into the skin with the fingers.
* It is not necessary to rinse the face.