Beauness A
160 ml, 5.4 FL. Oz.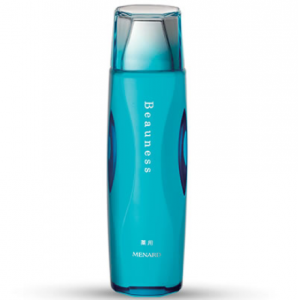 Acne and Skin Roughness
Beauness helps the skin to stay away from adult acne and skin roughness. Formulated with Menard's original HS Essence utilizes herbal extract and hot springs minerals, it effectively and gently improves acne and skin roughness. In addition, Medical Essence helps to keep the skin clean and maximizes the effect of Mineral Essence.
Recommended for:
Those who concern about skin roughness and pimples with their body condition and/or environmental changes. Those who feel their skin condition is unstable.
HS Essence
Power of Hot Spring Water: Potassium alum, Zinc sulfate, Sodium hydrogen carbonate.
Power of Plants: Amur cork tree, Marjoram, Rehmannis Root Extract
Directions for use:
Before applying anything else to your freshly washed face, apply sufficient amount (about 2 to 2.5 mL) to a cotton pad and pat lightly from the bottom of the face upward