Embellir Extract A
20 ml, .67 FL. Oz. x 3 (Morning , Night)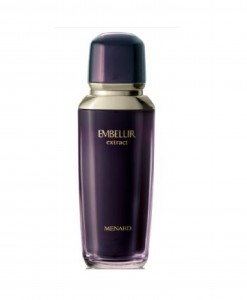 Unique thick and richly textured serum for skin that feels more elastic.
Product features:
- Uniquely thick  and richly textured serum that blends into skin evenly, making it feel more elastic.
- Permeates skin evenly to make skin feel moist and elastic.
- Because it contains ingredient identical to the structural ingredients of Moisture Layer Emulsion, it improves the adhesion of LIQUID, DAY CREAM and NIGHT CREAM, providing a strong sensation of moisture.
Red Reishi Extract and Black Reishixtract (Moisturizing ingredient)
BRG-N (Treatment ingredient)
GANODERMA LUCIDUM (MUSHROOM) EXTRACT

GANODERMA SINENSE (MUSHROOM) EXTRACT
Directions for use
Twice per day, after applying LIQUID in the morning and evening, place an appropriate amount (2 to 3 pumps, 0.4 to 0.6 ml) in the palm and spread it over the entire face.