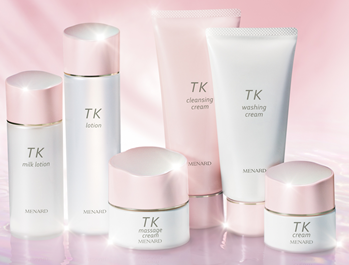 PROVIDES MOISTURE FOR DEWY AND TRANSLUCENT SKIN
Hydrating and Soothing
A skincare line that Hydrates skin with fresh moisture leading to a fine-textured and smooth skin. TK Skincare ability to hold moisture leads to the enhancement of the power to moisturize the horny layer.
In the language of flowers, Gardenia represents joy and happiness.
Gardenia has traditionally been known to add color to life since the Asuka Period when the flower was found useful for coloring food or flavoring tea, as well as for promoting health. The Gardenia flower blooms in early summer and is favored for its unique, rich, and sweet aroma. It has a refreshing and enchanting fragrance. Light scent.
Recommendation for:
Those who want to moisturize and hydrate their skin
Those who want to condition every inch of their skin including pores to get fine-textured smooth skin
The Unique Ingredients of TK
1. GARDENIA EXTRACT SP (MOISTURIZING INGREDIENT)
Gardenia Extract SP is Menard exclusive ingredient that was developed using a special heat treatment by increasing cell energy and normalizing its metabolism, conditioning the horny layer to a healthy stateIt leads to a skin rich in moisture and soft to the touch.
The Gardenia is an evergreen shrub belonging to the Gardenia genus of the Rubiaceae family.
2. Hyaluronic Acid (MOISTURIZING INGREDIENT)
Hyaluronic Acid is one of the components present in skin. Since it has a capacity to hold a great moisture content in it, its moisturizing effect is very high. In addition to it, Hyaluronic Acid has an excellent in affinity to skin and makes skin fresh and smooth.
3. Ceramide*3 (MOISTURIZING INGREDIENT) *Only in milk lotion and cream
Ceramide, a major component of intercellular lipid, has been added to further enhance the moisturizing effect.
TK Skincare Product Range