Embellir Night Cream AK
35 g, 1.2 Oz.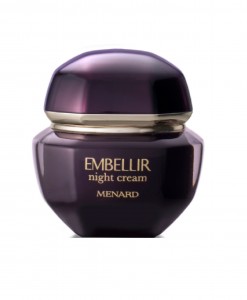 Gentle night cream with a thick, rich texture that protect skin while you sleep.
Product features:
- It melts into skin, making it feel soft, moist and elastic.
- It protect skin during a long night's sleep and provides feeling the next morning.
- This product uses "Moisture Layer Emulsion". which imitates the layered structure of the inter cellular lipids of the horny layer. it protects a moist feeling by creating a moisture layer similar to the inter cellular lipids on top of skin after application.
Red Reishi Extract and Black Reishi Extract (Moisturizing ingredient)
GANODERMA LUCIDUM (MUSHROOM) EXTRACT

GANODERMA SINENSE (MUSHROOM) EXTRACT
Directions for use
At night, after conditioning skin with LIQUID, EXTRACT and so forth, take an appropriate amount (the size of red bean, about 0.3 g) on the attached stick and apply it evenly to the entire face with fingers.