Fairlucent Bihaku Foundation A
10.5 g, .37 OZ., SPF 30, PA++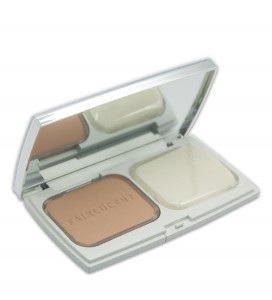 Achieve a natural, crystal-clear finish with both coverage and whitening effect. Keeps sweat and sebum off the skin surface and ensures long-wearing, beautiful finish.
Making skin alluring – The effect of luster achieves both coverage and distinguished clarity.
Protecting skin – The inimitable retention of makeup and an outstanding effect of UV ray protection protect your skin.
Delivering beautiful skin – Your skin is reborn to be beautiful and clear.
Catcher powder
Keeps sweat and sebum off the surface of your skin while ensures a long-wearing and beautiful finish.
Lustrous Brightening Powder
Forms a flesh-colored shiny veil on the surface of the skin to conceal blotches and freckles.
Essence C Powder AD
Brightening ingredient in powder form.
Vitamin E derivative, Enzyme-treated rice extract






Directions for use
Condition skin with make up base before use.
In use of dry sponge. Apply moderate amount to the whole face with dry sponge. In use of wet sponge. Thoroughly wet sponge and wring out excess water before use Wash and dry sponge thoroughly and pack up in compact.