Saranari Refresh Massage B
160 ml, 152 g, 5.3 Oz.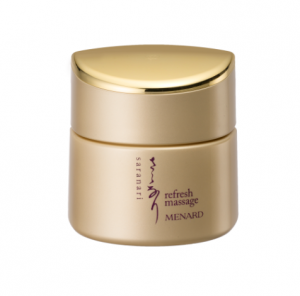 A velvety textured massage cream that rejuvenates the skin for creating serene beauty. It also can be used as a cleansing cream. Massages and cleanses the skin while restoring moisture, and leaves the skin plumper and elastic without wrinkles and sagging. Can be wiped or rinsed off.
Helps the movement of fingers to enable blissfully relaxing massage.
Blends swiftly with makeup and impurities, and cleanses the face perfectly.
Directions for use
Apply onto the face and massage or cleanse with fingers. Rinse thoroughly with (lukewarm) water or wipe off with tissue paper.