Menard Authent Mask II
Neck: 1 sheet (27 ml, 28 g, .98 Oz.)
Face: 1 sheet (39 ml, 40 g, 1.4 Oz.)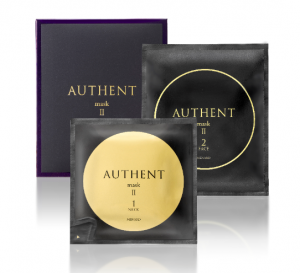 For an instantaneous, dramatic impression.
The concentrated essence seems to blend with your skin, covering it like a fine veil of newly born skin.
Feel how it carefully works its way throughout your skin to refine its texture.
It provides a firm and moist touch to the face, neck, and décolletage, for beautiful, haute couture skin.
AUTHENT MASK II promises luxurious satisfaction with the scent of AUTHENT CREAM II.
Moisturizing Features: 
(Face) Contains Semi-Plena Rose Extract*1, Oil-Soluble Sweet Cherry Seed Extract*2, Boat Sterculia Seed Extract*3, Purple Barley Seed Extract*4 (all moisturizing ingredients)
(Neck and Decollete) Contains Oil- Soluble Sweet Cherry Seed Extract*2, Bamboo Fungus Extract *5 (all moisturizing)
Notes:
*1: ROSA ALBA LEAF/STEM EXTRACT
*2: PRUNUS AVIUM (SWEET CHERRY) SEED EXTRACT
*3: STERCULIA SCAPHIGERA SEED EXTRACT
*4: HORDEUM VULGARE SEED EXTRACT
*5: DICTYOPHORA INDUSIATA FRUITING BODY EXTRACT
Directions for use
Please view the below video on how to use Menard Authent Mask II.