Embellir Liquid A
130 ml, 4.3 FL. Oz. (Morning, Night)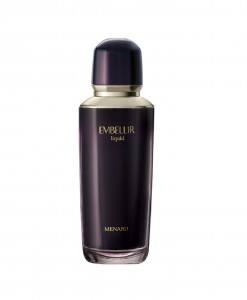 Fresh and rich liquid that combines the effects of a lotion and emulsion.
Product features:
- It combines the effect of lotion and emulsion, and rapidly permeates skin to give a moist and supple appearance while conditioning it to be soft and elastic.
- From the moment the fresh and rich feeling liquid touches skin, it blend in and permeates it.
- This product uses "Moisture Layer Emulsion". which imitates the layered structure of the inter cellular lipids of the horny layer. it protects a moist feeling by creating a moisture layer similar to the inter cellular lipids on top of skin after application.
Red Reishi Extract and Black Reishi Extract (Moisturizing ingredient)
 GANODERMA LUCIDUM (MUSHROOM EXTRACT)

GANODERMA SINENSE (MUSHROOM EXTRACT)
Directions for use
Pour an appropriate amount (3 to 4 pumps, 1.5 to 2.0 ml) on a cotton pad and spread it evenly over the entire face. Then, pat lightly upward from the bottom.