Fairlucent Refresh Massage
159 ml, 5.2 Oz.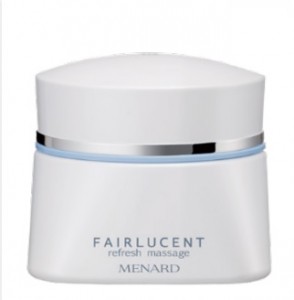 A massage cream that provides the skin with translucency by making it brighter, smoother and more moisturized. Can also be used as a cleansing cream.
*Can be rinsed with water or wiped off.
(As a massage cream)
*Glides smoothly on the skin with its slippery texture to ease the massaging process.
(As a cleansing cream)
*Quickly melts with makeup removing it neatly.
APM (Stable Vitamin C Derivative)
Skirakami Yeast Extract
Hyaluronic Acid
Green Tea Extract
Directions for use
Place an appropriate amount (the size of about 1.5 cherries (2.5 g)) on your fingertips, blend over your entire face, then massage or cleanse. Rinse off with (lukewarm) water or wipe off with tissue paper.