Embellir Washing AK
130 g, 4.5 Oz. (Morning , Night)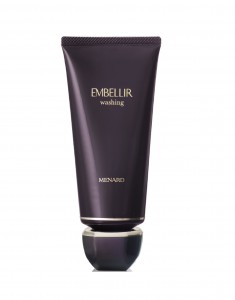 Cleansing foam that wrap skin like a moisture film, making it velvety smooth.
Product features:
- Its dense elastic foam clings to skin and cleanses it gently.
- It conditions skin to prepare it for the items applied after.
- Leaves skin well-conditioned and moist after washing by enveloping it with a film of moisture.
Red Reishi Extract and Black Reishi Extract (Moisturizing ingredient)
GANODERMA LUCIDUM (MUSHROOM) EXTRACT
GANODERMA SINENSE (MUSHROOM) EXTRACT
Maltitol Laurate, Surcose Laurate (Cleansing ingredient)
Directions for use Place an appropriate amount (the size of two soybeans, about 1.5 g) on the palm, lather well with (lukewarm) water and cleanse the face in massaging motion. Then, rinse off thoroughly, with (lukewarm) water.